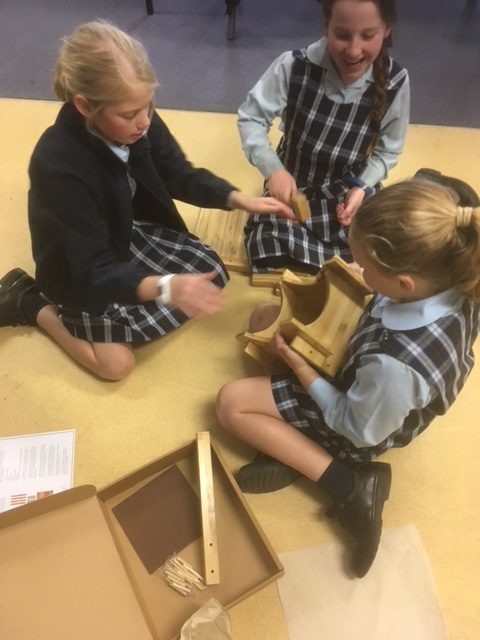 2019
In their third consecutive year, Roseville Public School continues to take on the world! Big ideas from these little hands continues to impress us!
I think the group of Year 4 students that we have had participating have brought enthusiasm and interest for the project. They have been excited to work together and are keen to help others in the community and beyond."

Melanie Galloway – S.E.A.T Project Teacher
2018
In 2018 Stage 2 students of Roseville Public School continued their relationship with the S.E.A.T Project that they began in 2017. Following in the footsteps of their Stage 3 leaders, students worked in teams to build their bamboo stools out of flatpack boxes. Next, they were introduced to the story of SEAT and his friends. They continued along a pathway of discovering their gifts and talents and decided how they could be powerful contributors to the community. Their outcome – a sale of decorated SEATs for a donation to Shelterbox Australia.
2017
The Stage 2 students of Roseville Public School embarked on a mammoth joint venture S.E.A.T Project in 2017. With an introduction to Gilbert Camp's, Global Harvest Christian Academy School in the Solomon Islands, the Year 4 students created their own butterfly effect.
This long term Project will see these students progress into their senior primary years, continuing to develop a relationship with, and becoming 'change makers' for the Global Harvest Christian school.
To read more about the 2017/2018 S.E.A.T/Solomon Islands Project click here:
Thanks so much for coming in and sharing your enthusiasm for the Project. The information you and Rosemary provided was inspiring for myself, the children and Mr Moran. I also showed my Year 3 class the Solomon Islands powerpoint presentation and they loved seeing it and discussing it.
We will definitely get the 'butterfly effect' happening in Roseville!"

Michael Connolly – S.E.A.T Project Teacher
After connecting directly with the school in the Solomons, the students, their families and school community helped to fill a shipping container with some amazing donations. This container was funded (and shipped) by The Lions Club. The students also raised $813 through promotions and campaigns that they devised within their school community. We're yet to hear who they will use this money. Well done Roseville!
Some student samples of work throughout the S.E.A.T Project education program: