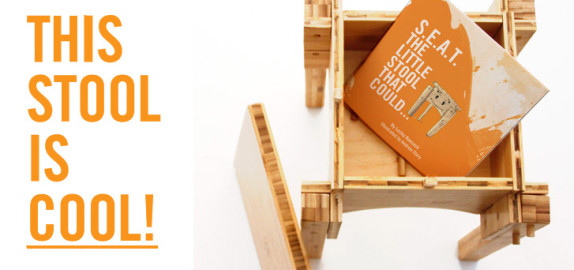 Price : AUS$85.00Enquire NowOrder Here
SEAT is a little stool made in a sustainable bamboo factory in Vietnam that is easily assembled by children. From Vietnam to Australia, the S.E.A.T Project is doing a great deal of good along the way. Children can build it, paint it, sit on it, store precious things in the lid, and become a part of the continuum!
SEAT: The Little Stool That Could is a cleverly written story that brings little SEAT and his friend Bea the paper mache butterfly to life, cleverly demonstrating the butterfly effect of this little stool. SEAT: The Little Stool That Could was written by Lesley Hancock, illustrated by Andrew Story and art directed by Georgia Kite.
The SEAT Kit and book, SEAT: The Little Stool That Could complement each other perfectly, bringing little SEAT from the pages directly into the room, making it all the more real.