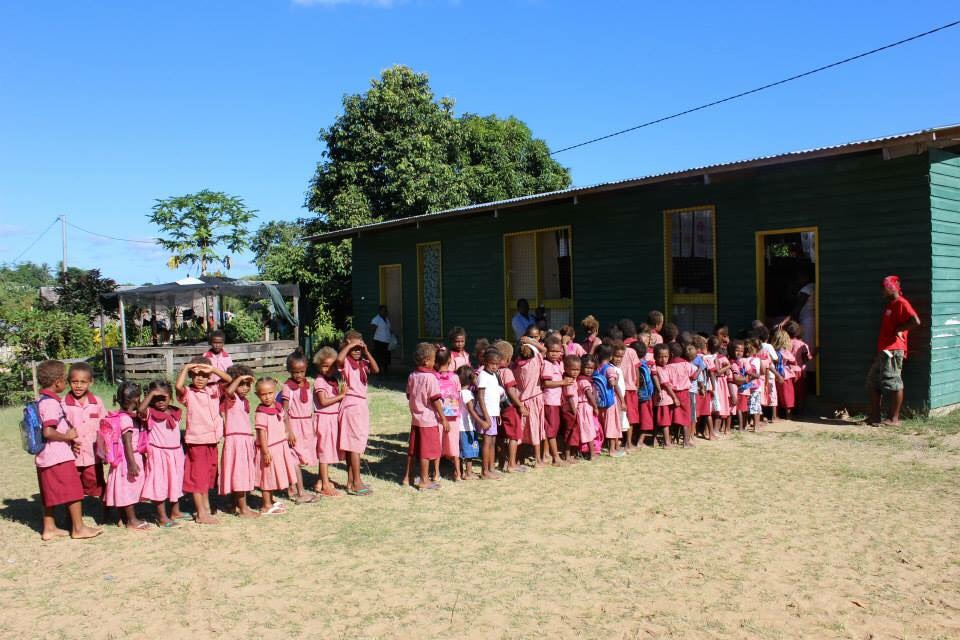 The Solomon Island's Project was a joint venture of S.E.A.T Project, Lions Club Parramatta and Australian Schools. Our goal was to provide an opportunity for Australians and Australian children to experience the joy of impacting a community in a third world country, close to home.
BACKGROUND
General education levels of children in the Solomon Islands is low with less than 60 percent of the school-age children having access to Primary Education. Pastor John Hugo of Gilbert Camp Honiara, approached the Parramatta Lions Club to help grow his school community and to create a community space; where social enterprises can be developed to create sustainable outcomes beyond the subsistence living that dominates within the community.
AUSTRALIAN SCHOOLS
The Hills Grammar School in Kenthurst NSW was our first Australian School to join the Project! The Year 5 students began their butterfly effect to become powerful contributors to the Gilbert Camp community. This long term Project saw the Year 5 students progress into Year 6, continuing to develop a relationship with, and becoming 'change makers' for the community in Honiara.
A select group of Year 4 students were chosen to represent the Project from Roseville Public School NSW.
With assistance from The Lions Club of Lugarno, Year 6 from Penshurst Primary School got fired up to make a difference to Global Harvest Christian School in Honiara, Solomon Islands.
As a teacher, it's so good to know that positive and sustainable learning outcomes are being achieved by Australian students. I am also delighted to know that a marvellous partnership has been formed between Australia and the school community I came to know and love in Gilbert Camp. I am happy to know that my information was able to help your students. I would be most happy to be involved with hearing the students' proposals. It sounds so worthwhile!"

Rosemary Payne – 12 month volunteer as teacher trainer at Gilbert Camp.
DECISION MAKERS
Through their participation in the S.E.A.T Project, our Australian school students were the wise decision makers for the outcome in Gilbert Camp Honiara. Their lessons in philanthropy and positive action prepared them for making powerful, sustainable and ethical choices for our friends at Global Harvest Christian Academy in Honiara. The students learned the needs of the school: new school building, community space for hosting celebrations and school events. In addition, the need for tools, a tool library, sewing room to create social enterprise in order to provide work, as opposed to charity. Our students were capable and equipped to make those decisions!
GET INVOLVED
If you would like to get involved in a project like this you can…..
Sponsor a school to participate in the S.E.A.T Project
ARE YOU A CELEBRITY, SPORTING TALENT OR INFLUENCER?
You can help paint a SEAT at a school, sign a completed SEAT and/or assist with the fundraising activity undertaken by the students. e.g. attend the launch of an art exhibition and fundraising evening; and assist with PR activities surrounding SEAT campaigns.
DO YOU WORK IN MEDIA?
Support getting the S.E.A.T Project and the student's causes out to Australians and Australian business.
Provide a platform to auction the decorated SEATs created by students and signed by a celebrity, sporting personality or person of influence.
WHAT CAN YOUR HELP DO?
Lead to the outcomes that the students have selected for their causes.
Provide community foundations for a better future.
Change the way children see the world.
Join extraordinary like-minded people and organisations that want to make a significant difference.
Collaborative giving builds your network.
100% of your donation will go directly to the S.E.A.T Project's causes.
This Project connects Australian schools and businesses directly to the school children and community to help build them a better future. If you are a school, business, or ethic individual interested in joining the Project, we would love to hear from you. Call 1300 33 SEAT
Here are some photos of a shipping container arriving in Gilbert Camp full of donations from the three Australian school mentioned above and The Lions Club of Parramatta NSW….