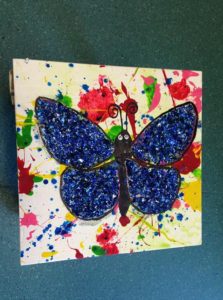 The students of Classes J19 & S18 from Holroyd School Merrylands 'buddied up' to build and decorate this gorgeous sparkly butterfly SEAT.
What S.E.A.T Project meant to them: "I like making it with my buddy", "I liked using the hammers", "good work with my friend".
SEAT recipient: Each SEAT will be auctioned and money raised will be donated to the Westmead Children's Hospital.
Why we chose them: Providing hope for children in need.
Builders & Artists: Sabah, Delshana, Bailey, Daniel, Alan, William, Vanessa, Steven, Thieny, Catherine, Gordon, Amara & Janet.
Holroyd School supports students with moderate and severe intellectual disabilities.