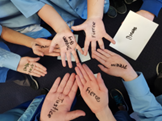 2020
A small group of Year 4 boys explored the S.E.A.T Project through lessons on wise action, philanthropic giving and community engagement. They connected with Tahmoor Public School to initiate discussions around similarities and differences, needs and wants and develop an understanding of  life for their peers in a far-off community.
Once the learning was done, the students of Matthew Pearce Primary decorated their SEATs to be gifted to their new friends at Tahmoor Public School who were greatly affected by the bushfires in their region.
2018
The students of Year 5N from Matthew Pearce Primary School in Baulkham Hills reflected on resilience, tolerance and discovered through wise decision making how they can be positive influencers.
Their Chaplain, Megan Harris is kindly reported the whole process as the Year 5 students moved through lessons on social responsibility, their own gifts and talents and community engagement……
THE SEAT BUILD
The first lesson involved the students breaking up into groups of 3-4 and being introduced to the program. Once the students received their boxes they were faced with the challenging task of working out what they were building and how they were building it.
Considering the pieces were all hand made in a factory in Vietnam, not everything measured up perfectly. This caused a bit of frustration at times but it was great to see the students work as teams and troubleshoot in order to solve their problems.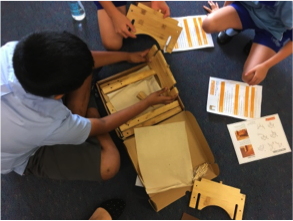 At times there were teams who managed to put 3 legs on, only to realise that the forth leg didn't fit in the last space so all legs needed to be removed and they had to start again!
The resilience shown and the determination to have this task completed was evident in the groups and we were very proud of their efforts.
The S.E.A.T Project is a great way for our students to work collaboratively and get hands-on with their learning. We look forward to the upcoming stages of this project and how we can be global contributors to the butterfly effect.
SEAT'S STORY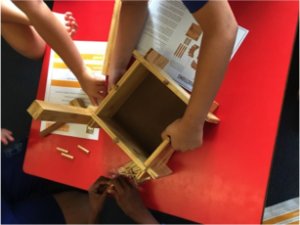 We have now looked behind the scenes at the SEATs we have built and found out a little bit more about where SEAT comes from and how he views himself. We read the book: "SEAT: The little stool that could" and it revealed to us that SEAT is manufactured in a sustainable factory in Thanh Hoa, 4 hours south of Hanoi, Vietnam. He doesn't feel like he is anyone special, after all he is not like an office chair, he isn't fancy with wheels or arm rests, he is really just a timber stool. However his friend the butterfly asks him to look beyond just his appearance and look at the contributions he makes to his world just by being here
SEAT's friend, BEA the butterfly, reveals the "butterfly effect" his life has on others. They say that the flutter of a butterfly's wings on one side of the world can trigger a hurricane on the other side of the planet. Through the S.E.A.T Project, we are realizing that a small stool built in Vietnam can trigger a hurricane of good all over Australia and hopefully, the world. Through the story the students are learning that SEAT could stand for something more.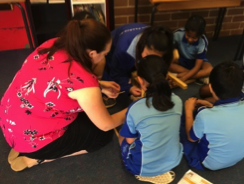 We took some time to look into the lives of the creator of SEAT, Niki Banados a young university design student, as well as the author and illustrator and investigated how the story of SEAT mirrored some of the aspects in the lives of these people.
It has been very exciting to watch the students learn and discover that each one of our lives has a significant purpose simply because we are here. Can't wait for our next lesson!
THE BUTTERFLY EFFECT – Wise Decisions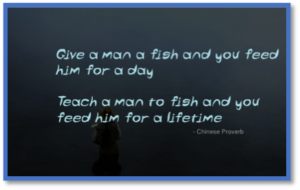 The last 2 weeks has seen the students explore the needs in our world which they have been exposed to and collaborate to make a decision on how they too can make an impact through the butterfly effect.
Our thought has been: "Give a man a fish and you feed him for a day, teach a man to fish and you feed him for a lifetime"
The students have had to consider how their SEATs could make a difference in the lives of different people groups in our world. We talked about current situations that we knew about, such as the drought in our own land and literacy rates in India, and we also explored other needs that were presented to us by some guest speakers. We had a special visit from Mrs Fawcett who showed us some pictures from her holiday to Fiji last year where she visited a local school, and the class where able to consider what it would be like going to a school without access to technology.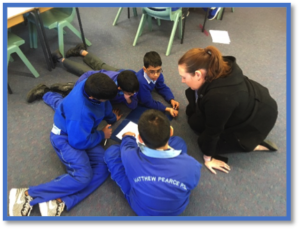 The students then gathered in groups to discuss what their SEATs could achieve, where they could make a difference, and how this was going to happen. It was remarkable to see the ideas they came up with.
More than this, it was also inspiring that when all the ideas were listed, even though they varied greatly, together as a team they were able to narrow their ideas down to 2 final ideas which they all agreed upon. The students have come such a long way since they first unpacked their pieces back in Term 2!
5N are now writing letters to gain support from people in the community to help them with their vision. They are also coming up with ideas on how to decorate their SEATs and prepare them for their next adventure…..
THE BUTTERFLY EFFECT  – Positive Action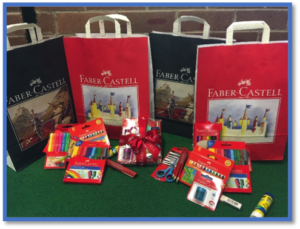 Last week the students in 5N began writing some letters to people in our community asking for help to bring their butterfly effect idea into a reality. The students have recognised through our partnership with Trundle School, their own research and the stories of other people's experiences, that many schools around our world don't have access to the basic necessities and luxuries that we enjoy every day. Because of this, the students decided collaboratively that they wanted to impact a couple of schools with SEAT and provide them with basic necessities. One of the letters they wrote was to Faber-Castell asking if they were prepared to help us by providing school supplies to place into our SEAT compartments. They did this gladly and a representative from Faber-Castell brought bags of school supplies to our classroom and came to hear our story of what we had learnt and what prompted us to write to them and ask for help. They were so happy to be involved in our project by contributing in this way and loved seeing students seeking donations not for themselves but for others they are aware of who are less fortunate.
Yesterday we began preparations by undercoating our SEATs for our painting designs which we will finish off next term. We are very excited to see the end result and to display them for our school community. We still await replys to our letters for shipping sponsorship so that our SEATs can reach their desired destination, and we look forward to sharing this with our community next term.
THE EX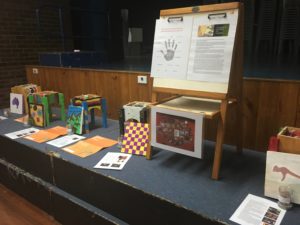 HIBITION
The students were so proud to share their S.E.A.T Project with their school community. They displayed their decorated SEATs and enthusiastically communicated their SEAT journey to their peers, parents and visitors. Accompanying each group's exhibited SEAT was an explanation of their interpretation of the project and their outcomes. Below each SEAT was a donation jar to collect coins for their cause.
Group 5 – This fascinating SEAT was cleverly designed by the students who learnt that children in Fiji don't have many games to play. They decided to decorate their SEAT as a checkerboard for chess or checkers and provide the playing pieces in the secret compartment! "We did splatter paint on the base to make the SEAT look colourful and vibrant – this will cheer the kids up. We added aboriginal dot painting to symbolise the link between the Australian and Fijian cultures. We did thumbprints on the sides of the lid to show which way to twist the lid open."
Group 2 – "We used fingerprints to personalise the art. We painted Australia to show where SEAT was built and painted. The patterns represent the simple colours, but intricate patterns that we find in life. The patterns represent the butterfly effect as one line leads to painting another, then another and so on. Just like the butterfly effect influences one thing after another."
Group 3 – "Our group has a different design on each of the SEAT. Each one more unique than the one before. One such design is the Sydney Harbour Bridge on one arch of the SEAT. We chose this design because we thought it was important for the Fijian school to know more about us. We painted the Fijian flag on one side to show them that we know and understand them as well. On the top of our SEAT we incorporated a beautiful design that gave a wonderful and creative add on. We use the idea of pixels to create something that is attractive to the eye."
Group 4 – "We used bright colours on the legs of our SEAT to bring happiness to and joy into the lives of the Fijian students. For the top we painted a kangaroo as it represents Australia and the diversity we bring. we want dit to stand out so we painted it on a white background."
Group 1 – "We decided to draw an island surrounded by water and a bright sun, because Fiji is a tropical island and this would represent it well. Painting took a lot of time so we simplified our idea for the legs and just used yellow, black and green."
Group 6 – "The blue on the legs represents a running river and we purposely left the wood exposed so it looks like a running river. On the top we did a landscape picture of mountains in Fiji. We also included both the schools mottos representing inclusion, friendship and respect."
Group 7 – "We decided to go with s 'homey' colourful design using the colours of green and bronze".
Group 8 – "We wanted to fill our SEAT with the gifts from Faber-Castell."
THE OUTCOME
After many challenging months to connect and failed attempts to get their decorated SEATs to Fiji, the students decided to revert to their second option of making a difference to the lives of Australian students in drought affected areas. Wentworth Public School NSW is a remote school struggling with the drought, so it was lovely to see the smiles on the students faces when they received their SEATs (who had travelled a long way!)
And up the road (30 mins north by car from Wentworth PS), the students from Palinyewah Public School in Ellerslie NSW, also received a couple of SEATs (only 11 students in the entire school!) to make their day!