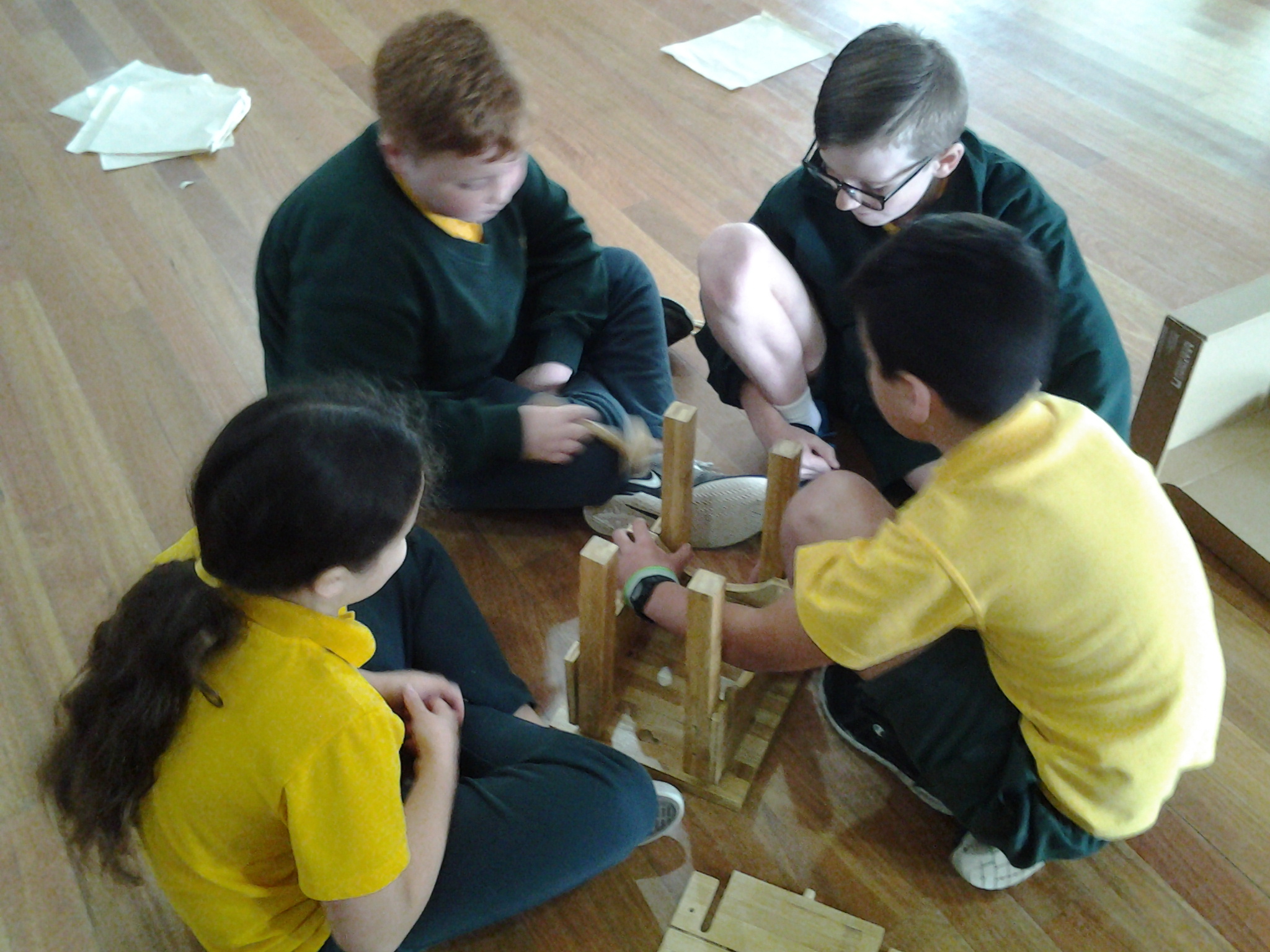 2019
The Year 5 students of Londonderry Public School join our S.E.A.T community again this year for their second S.E.A.T Project. We are excited to see what they do this time!
2017
The Stage 3 students of Londonderry Public School have had their whole S.E.A.T Project journey recorded by one of their Year 5 teachers, Roschelle Morwood. Below you can read about their big ideas and powerful contributions as they worked through their lessons…
REAL CHANGE ON A GLOBAL LEVEL
Our Stage Three students feel empowered by the possibility of taking part in real change on a global level. Through their S.E.A.T Project lessons they have been made aware of global issues and are concerned about significant global matters such as sustainability and poverty. My students feel that these should not just 'be left to the adults' to fix. These students are fired up to have their voices heard and motivated to instigate real change.
INVESTIGATING ACTION
The students are currently investigating what action kids have done in the past to make a difference in the world. They are looking at a variety of causes and charities and the kids who have started and run them. The students are fascinated by the fact that these kids are no different to them, they just have a great deal of passion for a particular cause. Already the students are starting to form ideas about what area they would like to make a difference in!
RESEARCHING, NEGOTIATING, DECIDING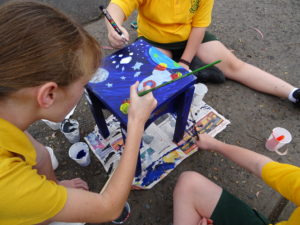 The students have been busily researching and deciding on an area they are passionate about helping. They have discovered that there is a high population of homeless people in the Hawkesbury region and, after having discussions with local organisations, have decided to try and provide some comfort/ toiletries packs for homeless people to local organisation – Hawkesbury Helping Hands.
At the moment the students are busily working on painting their SEATs. Each group had to negotiate a theme and design for their SEAT and decide together how to decorate it as best as possible to show it off for sale in our auction at the Londonderry Christmas Carols.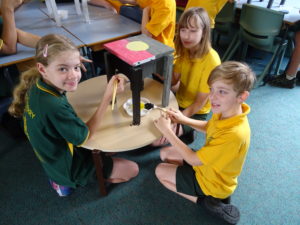 The students want their SEATs to be as valuable at auction as possible and as such have also been writing letters and approaching local businesses for vouchers and products to place within their SEATs secret compartments!
In whole stage meetings the students have negotiated what they believe should be in the comfort packs and have decided that they will make a girls version and boys version to meet the different needs of each.
The students are taking the project very seriously and are impressing their teachers every session with the maturity they are showing towards a serious humanitarian issue.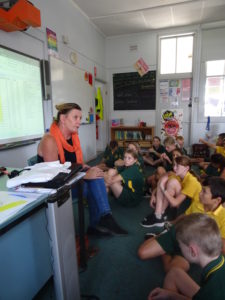 A VISIT FROM HELPING HANDS
At the last moment we were able to get a representative from Hawkesbury's Helping Hands who was able to tell the students and the community a bit about what they do to help homeless people and other people in need.
This week the founder and head of the organisation (Linda) brought the Helping Hands van to school and spoke to the students about the organisation and gave them a chance to ask questions. The maturity and insightful thinking demonstrated by the students was truly amazing.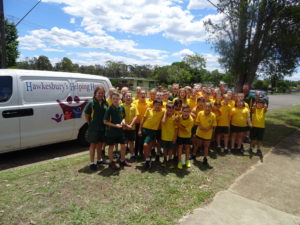 The students are planning on spending their money on creating comfort packs for homeless people and Linda was able to give them a lot of tips about what the greatest needs are for homeless people in the area.
MANAGE A BUDGET
This week has been incredibly huge. It's like a snowball effect of enthusiasm from the students.
In numeracy lessons this week the students have been researching products and their prices at various retailers so that they can make sure they get the best value for money for the items that they are donating and can help as many people as possible. This has shown us all how much thought and planning it takes to manage a budget.
We had a lot of donations from various businesses throughout this process. To get these, the students had to write letters outlining their project and asking for items that could go into the secret compartment of their SEATs. One of the businesses they chose to approach was Woolworths and they truly came through!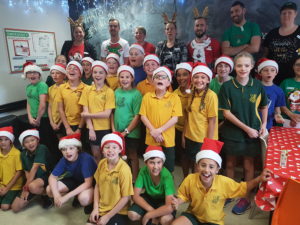 VISIT TO WOOLWORTHS
Today 25 of the students were invited to go to Woolworths at Jordan Springs to sing Christmas Carols. While they were there they were treated to morning tea hosted by the store where they received a special presentation of $150 in Wish gift cards to spend in store and $70 worth of enviro-bags to put their products in.
The students had to find their budgeted products on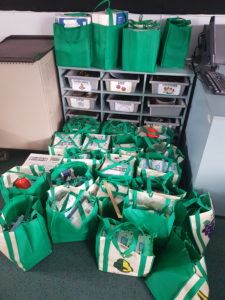 the shelf, check prices and sizes and count them in to the trolleys. It was an enormous shopping trip and couldn't have been made possible without several parents helping us to transport the items back to school.
THE EVENT 
Last week we had our auction at the Christmas Carols event. It was a great opportunity to share with the wider community what the students have learnt about a very concerning local issue.
The SEATs were displayed and the students took turns explaining to people that visited the display what the SEATs were for and how our silent auction would work. The students chose a silent auction as the general opinion was that we didn't want to interrupt the singing of the carols too much.
In total the auction raised $1999 which was topped up by a kind donation to bring us to a total of $2010!
​