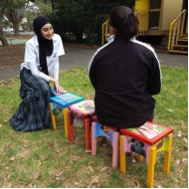 The S.E.A.T Project has allowed our Support Unit girls to problem solve, think creatively, critically and foster high order thinking in our higher ability students. Working both collaboratively and individually they have been developing their social and communication skills. The girls have focused on themes appropriated from narratives in English lessons as well as HSIE topics studied throughout the year.

Ultimately the S.E.A.T Project has provided opportunities for the girls to develop an awareness of the global issues in the world and become active, informed citizens who are able to contribute to contemporary Australian society.

The girls are excited about exhibiting and being part of the silent auction to raise funds…"

Marietta Verykios – Teacher, Auburn Girls Special Education Support Unit
"Friends and Play"
Our SEAT is all about animals and people. The different panels show how these people enjoy the outdoors taking a walk, playing with their pets or spending time at park playgrounds. We did the S.E.A.T Project in Geography lessons when we worked on the topics 'Communities' and 'Australian animals and their habitats'.
Sharon and Jannean
"Our Favourites"
Our SEAT is about Australian Animals after learning about them and their habitats in our Geography lessons. The animals that are painted on the SEAT are a kangaroo and it's joey, a platypus and a few Australian native birds.
Shaymaa, Kim and Mariam
"Luck"
Our SEAT is about giving and good luck. We tried to show this by drawing and painting gift boxes on the four sides of the SEAT while the top displays a good luck elephant with its upturned trunk. It is a symbol of strength, power, stability and wisdom. We learnt in Geography that in Thailand, the Airavata elephant is called Erawan. Erawan was the main feature on the flag of Laos from 1952-1975.
Kadie and Salma
"The Reef – One"  and  "The Reef – Two"
These SEATs are about sea life of the Great Barrier Reef that we studied during Geography lessons. The top of the SEATs make reference to stories we read in English lessons.
Ghadeer, Amar, Fatma, Douha and Zainab.
The Auburn Girls High School Support Unit is an inclusive and flexible learning environment dedicated to meeting the diverse needs of students with learning difficulties, intellectual disability and Autism Spectrum Disorder.