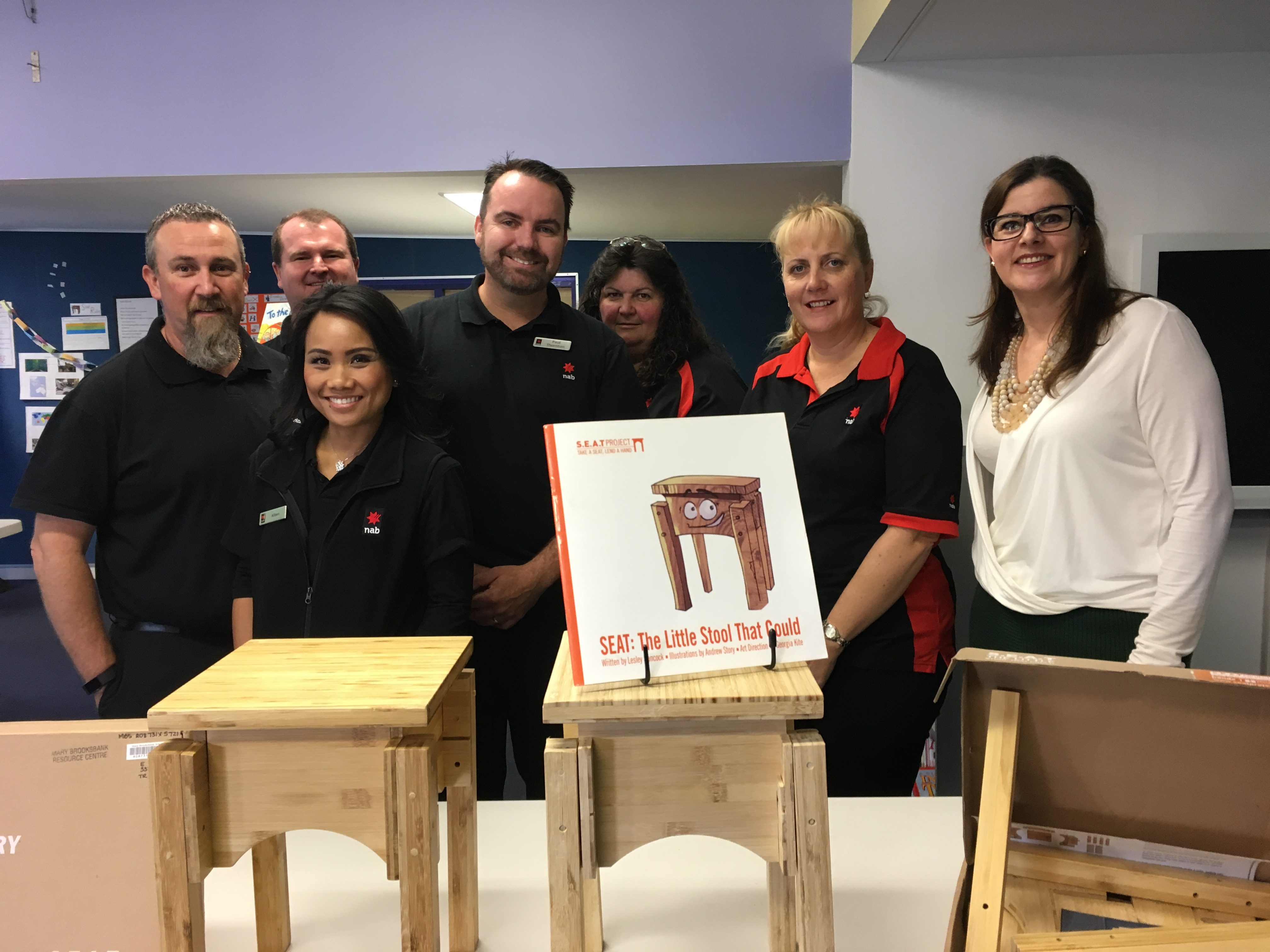 The National Australia Bank have been tremendously generous and supportive of the S.E.A.T Project in Australian schools and organisations. NAB Retail recognise the value of community, collaboration, innovation and social enterprise that the S.E.A.T Project offers and are happy to be a part of it's butterfly effect.
To date, NAB Retail have supported:
Mary Brooksbank School Rosemeadow NSW to participate in the S.E.A.T Project. With the generous support of NAB Liverpool & Highlands, students aged between 5 years and 18 years old with moderate to severe intellectual disability have been able to experience the project.
The SEAT build day with community engagement from the NAB staff far exceeded our expectations. Every single student was a part of the process and valued for their contribution. The staff at NAB were amazing with our kids and Paul (their Regional Executive), said he was 'buzzing'. Well – we were all too! It was an awesome time to share a special experience with a select group of our kids."

Mandy Hyeronimus – teacher, Mary Brooksbank School Rosemeadow NSW
Today was an amazing process. It was great to be able to interact with the children and to watch their engagement, teamwork and spirit. You don't realise how important that something as simple as building a chair can be to a group of students with some special needs. To see the excitement once they had completed their project, was an outstanding experience for me. I've got a great 'buzz' at the moment, so thank you!"

Paul Thornton – Retail Customer Executive Liverpool & Highlands
Makes you appreciate all the things you have in life. It was great fun! We look forward to coming back again."

Kim Cross – Branch Manager Ingleburn
Liverpool Hospital School NSW to be involved in the S.E.A.T Project. Liverpool Hospital School is a K-12 school situated within the Paediatric Unit of Liverpool Hospital. The school provides continuity of education for hospitalised students and focuses on student welfare and using technology in learning across curriculum areas. School staff support students and their families in the process of transition from hospital to their home schools or to other educational settings.
For more information about NAB's "life's about more than money" initiative, click here: