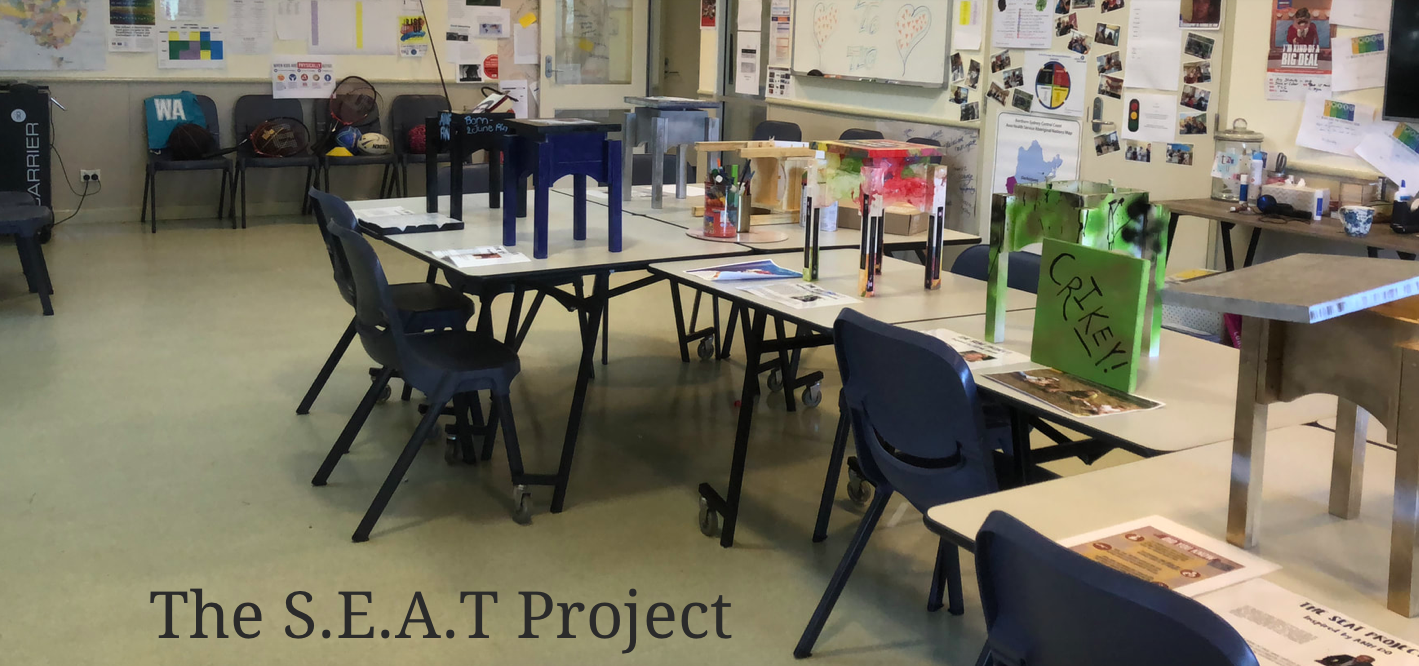 Lakes College, Blue Haven is a Father Chris Riley's Youth Off The Streets School. Lakes College is an alternative high school dedicated to providing tailored and focused education for students who may be at risk of falling behind in mainstream schooling.
When approaching the S.E.A.T. Project we decided to undertake a "pay it forward" mindset. The students worked together to build their SEATs and learn about the project. They chose a person or organisation to inspire their design. Each student chose a charity that they wished to "pay it forward" to. The profit from these SEATs will be 'grown' by the students in a maths/commerce task. The final amount 'grown' by each student will be given directly to their chosen charity.

​Therefore, by the time the project is finished each little SEAT would have:
– provided work in a sustainable factory in Vietnam
– supported The Real Foundation (as 10% of the initial profits made by S.E.A.T. are donated to this organisation)
– given our students at Youth Off The Streets an opportunity to engage in a meaningful project crossing multiple curriculum areas (including maths, literacy, design, visual arts, commerce, and service learning)
​- supported an organisation beyond Youth Off The Streets with all profits going to different charities/community organisations"

Amy Gill – teacher, Lakes College Blue Haven NSW
The student's SEATs have been auctioned off, raising further funds for their designated charities. The students have started their own social enterprises to raise more awareness of their chosen charities – this is still in motion!
Here are some of the initiatives the students have put together:
WILDLIFE WARRIORS – Inspiration Steve Irwin
THE SMITH FAMILY – Inspiration Tupac Shakur
ACT FOR PEACE – Inspiration Anh Do
Proceeds from the sale of this SEAT will go to Act for Peace who strive to achieve safety, justice and dignity in communities around the globe threatened by conflict and natural disaster.
THE GENDER CENTRE INC – Inspiration Marsha P. Johnson
CANCER COUNCIL – Inspiration King Lil G
AUSTRALIAN MARINE CONSERVATION SOCIETY – Inspiration Bethany Hamilton
DOLLY'S DREAM  – Inspiration Amy "Dolly" Everett
WORLD VISION – Inspiration Anne Frank
PCYC BATEAU BAY – Inspiration PCYC
​