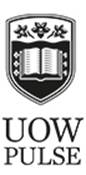 University of Wollongong Pulse, which incorporates the previously known Wollongong UniCentre Children's Services, has joined our S.E.A.T community! The group of 4 campuses are:
OOSH & Vacation Care in Fairymeadow
Kid's Uni North in Gwynneville
Kid's Uni South in Gwynneville
South Coast Workers Childcare in Wollongong CBD
We are very excited to have them on board. They're just beginning their process and we can't wait to see what they do!