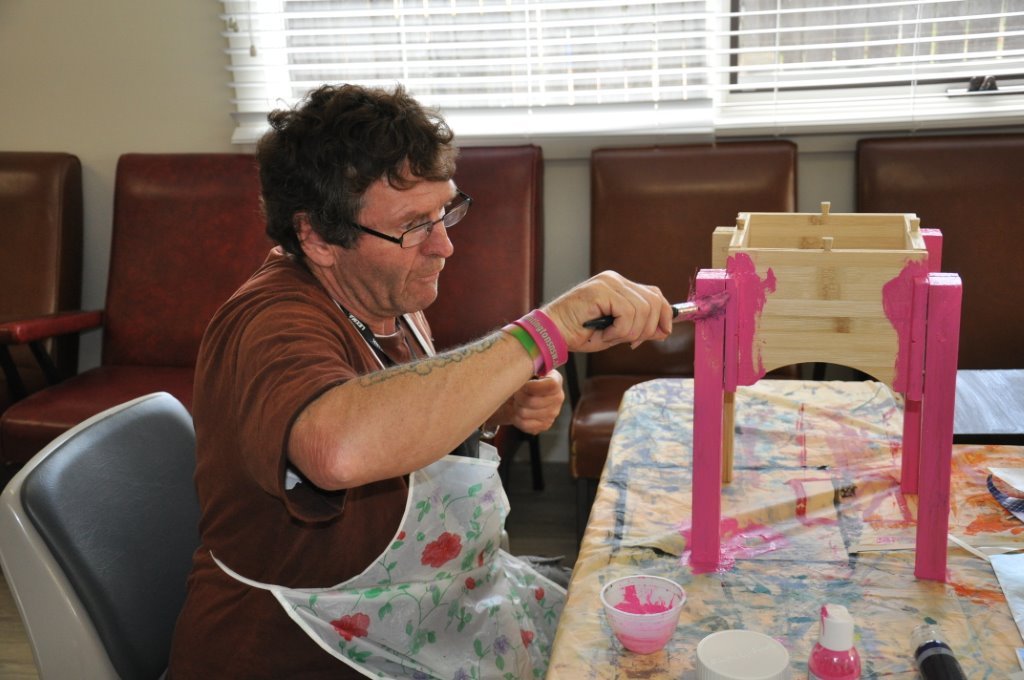 Our clients come together fortnightly to hang-out with people like themselves. Our program is for adults in the early stages of Huntington's Disease (HD), and is designed to alleviate the social isolation that is experienced with having HD. We provide a safe environment where people can socialise, be involved in mental and physical activities and discover or rediscover their creativity. In our social setting they enjoy a friendly meal, card and board games, trivia, indoor games like: bowls, quoits, darts, bowling and creative arts. We needed something that was different for our clients that helped us all connect further.

The S.E.A.T Project was a perfect fit, it achieved and exceeded our expectations!
We observed that each project stage brought different meaning for each person.

The build was a mix of confusion, frustration, laughter and satisfaction all rolled into one. Working with the bamboo SEAT itself allowed each person the opportunity to realise they can still create something with their own hands… an art that is often lost due to HD. Our staff thought the best stage was designing the SEAT decoration. Here our clients voiced what they wished to express on their SEATs. We had the privilege of listening to their stories of life, family, travel, likes, dislikes, talents, and memories; revealing their true personalities. The decoration saw all this represented on the SEATs and then the SEAT was gifted to family members to be celebrated and displayed in their homes.

The support and experience brought to our group from the S.E.A.T Project staff was instrumental in making it a successful process. From telling the S.E.A.T Project story, revealing the tricks of the build, guiding the design, through to lending a hand when needed. It was not just a build and decorate activity! It was something far more valuable around 'sense of self' and became a token of a person's legacy. Due to its success, we are planning to run another workshop with children in the future.

The whole process was a gift! Seeing our client's faces light up when they had completed their SEATs was wonderful. I would recommend the S.E.A.T Project to any age and any ability."

Amanda Dickey – Huntington's NSW Programs Officer
Huntington's NSW website:
Huntington's disease (HD) is an inherited disease of the brain which affects individuals of either sex. Each child of an affected parent has a 50% chance of inheriting the abnormal gene. It causes changes in the nervous system resulting in: involuntary muscle movements (chorea), and unsteadiness; reduced ability to plan and organise; some memory loss and lack of awareness; swallowing an speech difficulties; weight loss and an increased need for food; and alterations in emotions i.e. depression, irritability and mood swings affecting family relationships. In other words, HD affects a person's ability to walk, talk, think, reason and relate. Symptoms usually appear between 30 and 50 years of age, but it can also be earlier or much later in life. Treatment of HD and research into its causes is improving, but there is still no cure for the disease.