TEA TREE – Room 8 (Halinda School NSW)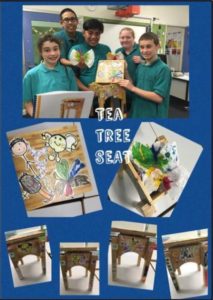 We gained a lot from doing the S.E.A.T Project. We learned to work as a team, taking turns and learning to problem solve in building the SEAT.
We read the story every week and focused on different parts. Our most favourite part was about the butterfly Bea, and how she was a friend to SEAT. We talked about being friends, and who are our friends. We looked at being a friend by having a helping hand.
Our design is a collection of friends and happy pictures that we drew, coloured and painted. We also have some butterflies to represent Bea, some bamboo for the Vietnamese rainforest and other patterns from the story.